Vs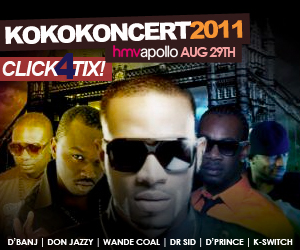 You Know one thing they Say , ADAM Ate the Forbidden Fruit and he became wiser and now we are all Heading to Either Hell or
Heaven
, the Truth is this whole
Mavin
Shit is Nothing Compared to
Mohits
Together they were Going Places Every lover of good music home and abroad will testify to this fact that the days of D'banj and Don Jazzy's Mo'hits was the best formidable force in entertainment company in Africa.
But when the organisation collapsed irreconcilably, things fell apart and the centre holds no more. But shortly after their break up, Don Jazzy Mavin Records has lost Yet another Key Player in the Person Black Diamond of Music
Wande Cole
To be Honest with You Since D'banj Left the Mo'Hits Squad for his
DB Records,
we have not seen another charismatic artiste fly on
Don Jazzy'
s bewitching beats and it takes more than good beats to make a true artiste, True or False ?
My Advice to You Guys is You Need Each Other whether You Like it or Not Tiwa will Get Married Pretty Soon and Mavin Records would be Left with
Dprince
and
Dr sid
who may not Measure up to standards as Wande Coal and Dbanj because of their Style and Genre of Music Everybody has Misunderstandings You Guys Can still Resolve Them .
Any Day , anytime i still go for
Mohits
; Mavin is full of too Much Drama ?