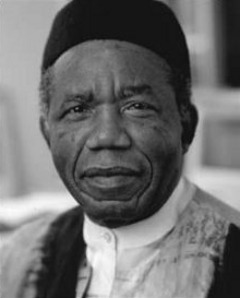 Novelist,Poet,Critic and Professor in the University of Connecticut :Professor Albert Chinualumogu Achebe has passed on to the Great beyond yesterday the 21st of March due to an illness yesterday that is yet to be disclosed.
Born on 16 November 1930 to the family of MR and MRS Isaiah and Janet Achebe,He was married to Mrs Christie Okoli Achebe and they had 2 sons and 2 daughters.
He had his primary education in High School: Government College, Umuahia:and also his University Education at the University: University College Ibadan.
He lectured in various institution all over the world University of Massachusetts.Connecticut and Nsukka,He Has also bagged various awards like the American Acadeny of Arts and letters,and the Modern language association Award.
He is the
Author of books:
Like
Things Fall Apart
(
1958
, novel)
No Longer at Ease
(
1960
, novel)
Arrow of God
(
1964
, novel)
Man of the People
(
1966
, novel)
Beware, Soul Brother
(
1971
, poetry)
Christmas in Biafra
(
1973
, poetry)
Morning Yet on Creation Day
(
1975
, essays)
Home and Exile
(
2000
, memoir)
Chinua is Going to be dearly missed by his family and Nigeria as a whole because he was a symbol of poise and intelligence. We pray that his Gentle soul rest in peace.